---

​

For first time moms, we may have read all about what to expect in our first pregnancy and some of the information may apply to us. But you won't really know what exactly works for you until you've actually tried them. Here's my list of essentials or things I found worked for me with my first pregnancy:

---

​

​I suspected I was pregnant when I threw up all my breakfast one day, and it wasn't just your normal throw up, it was almost like I was going to barf out all of my insides. It wasn't pretty. I didn't do a pregnancy test then because I wanted to wait till my period was actually late. So when my expected period date came and no period, I was 95% almost certain that I was pregnant. It was crazy because it turned out my brother in law's girlfriend was pregnant too! And they announced it to us the day we actually planned on getting the pregnancy test. I remember what I felt that day, I was so happy and really looking forward to the whole pregnancy journey. As it turned out, I was already 5 weeks pregnant when I took the test.
Powered by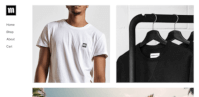 Create your own unique website with customizable templates.
Photo used under Creative Commons from Family O'Abé