​

I love the

Montessori method

of teaching and learning. I like that it puts emphasis on the child's independence, freedom within limits, and respect for a child's natural psychological, physical, and social development. This is what I want for my kid.

I went to a Montessori school myself when I was in preparatory school. I don't remember much about it now since I was very young then but I do remember a certain feeling about it that I like. I don't remember the details, but I remember small snatches of memories as a kid being in the Montessori school environment. All I know is I had a very good experience and I learned a lot.
Powered by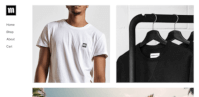 Create your own unique website with customizable templates.
Photo used under Creative Commons from Family O'Abé