Because I'm trying to control my son's eczema by eliminating certain foods from his diet that might trigger flare ups, I decided to cook some quinoa pancakes for him today. There are so many recipes online but I stuck to a simple one.

​

​Dealing with my son's eczema on his wrist has been a hard, frustrating thing. At first it was just random flaky spots on his legs and those went away after I applied Aveeno Eczema Lotion on them. But the most stubborn eczema he has is on his wrist. It's just this big circular patch that started appearing around a month ago when he was 18 months old and just wouldn't go away no matter what I do. He keeps scratching until it bleeds and becomes all red and crusty.
Powered by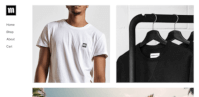 Create your own unique website with customizable templates.
Photo used under Creative Commons from Family O'Abé