I came across this article written by a mom, Jessica Dimas at her blog, Pig & Dac. It is so heartfelt and just reading it made me cry. She wrote it so well, I swear, it's like I could have written this to my own son...

This post caught my attention on Mother's Day (I don't know who wrote it), and it just touched my heart. Ever since I became a mom, I know it's my responsibility to raise a human being and to be honest, the mere thought of that SCARES ME. Don't get me wrong, it is a very fulfilling job and a job that I welcome and embrace wholeheartedly, but sometimes I question myself whether I'm doing a good job or not, whether I am doing what's right for my son or not. We all have self-doubts, and I'm sure every momma out there can relate.

Powered by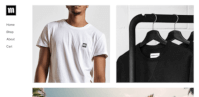 Create your own unique website with customizable templates.
Photo used under Creative Commons from Family O'Abé